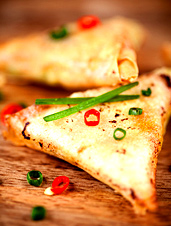 Let's shake things up a bit.
Let's take a little Tijuana street taco, and a bit of curry, and add in some Bollywood for good measure.
Seems like we're on to something...
For your lunching pleasure, Mexico and India come together in a heretofore unseen tikka/burrito bliss.
Welcome
Curry Up Now
, your new midday destination for homemade Indian/Mexican street food served out of a taco truck, available tomorrow in front of the Wells Fargo at Bush and Sansome.
In case you forget the truck's exact location, the aroma of curry wafting from its stoves will lure you over. If you're worried about a line, well, you should be: they make everything to order. But it moves swiftly (they can crank through 200 people in 90 minutes), there's an express line if you're only ordering a burrito, and there's always the Bhangra and Bollywood music to keep things upbeat.
The menu, concocted by a husband and wife duo who found that naan didn't have the holding prowess of a tortilla, is chock-full of interesting creations like the
Chicken Tikka Masala Burrito
—a plateful of big chunks of chicken, curried basmati rice and mint chutney wrapped tightly in a La Palma flour tortilla.
And if you want something slightly more traditional, try the beef
Kathi Roll
wrapped in roti, and tack on the truck specialty: the
Deconstructed Samosa
that's more like an inside-out samosa.
Seems appropriate...