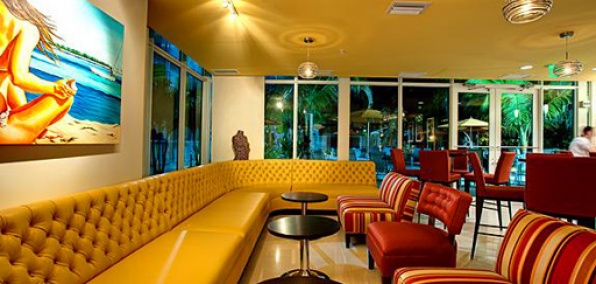 There are some things you can never have enough of.
Hotel pools. Lazy afternoons. Comely tourists with exotic accents.
Now, take all three, throw in some Latin tapas, and you've got
Bistro Urbano
, a new poolside hideaway downtown, now open at the Hotel Urbano.
You probably already know of the
Hotel Urbano's
charms. How it's a comfortable boutique hotel on the south end of Brickell with a funky art collection and a relaxed vibe. Think of the new Bistro as an extension of all that leisureliness, with the added benefit of a chef who worked the line at the Setai (and the Wynn Las Vegas) churning out
small plates
for you like
Mussels with Chorizo and Tomato White Wine Broth
,
Crispy Crab Cakes
and
Warm Cinnamon Churros
.
You'll come in after handling some business in Brickell (modeling related, most likely) and start at the indoor dining room and lounge. Then, assuming the weather's nice, you'll segue to the outdoor tables near the pool, just a few steps from the private cabanas and the roaring fire pit.
Fire-pit-adjacent cabanas are another thing you can never have enough of.