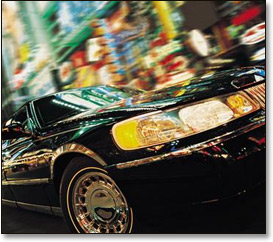 If transit workers have a reason to strike, we say, strike it up. But in fairness, that's because we've got
Al's Limousine
standing by as backup. There is no better quasi-secret, quasi-legit car service for times like these, when cabs are few and far between and walking more than a few blocks means losing a toe to frostbite. 


Al's Limo
isn't your average black car service experience, and not just because of its white vintage exterior and purple neon undercarriage lighting. There is also a disco-themed interior (shag carpeting, zebra-striped throw rugs) stocked with disco-themed beverages (tall-boys) and disco-themed party supplies ("party" supplies).  Forget what you think you know about limo fun. If ever there was a shindig on four wheels—and the perfect alternative to being among 100 people standing on a street corner, all vying for the same cab—this ride is it.
Plus here, you get ultra-reliable limo driver extraordinaire, Al.  Not exactly your average transit worker, he's part driver, part DJ, part "delivery man" and completely on call.  Somehow, his Studio 54 on wheels is never more than 10 minutes away, even in strike conditions.
Which is more than you can say for the F Train on a good day.