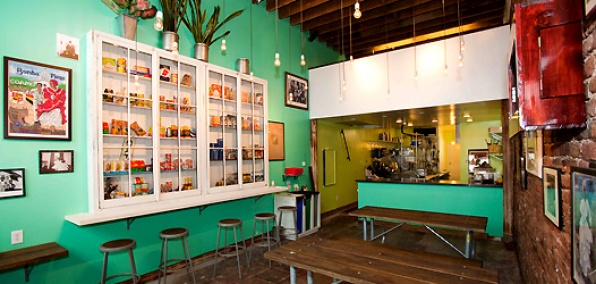 Ah, the Caribbean.
With the decidedly un-tropical recent weather, a quick island escape is starting to look like the right move.
But just in case you're in between tropical vacations, a dinner might just have to do...
Introducing
Parada 22
, your new low-key outpost for the sort of authentic Puerto Rican food and drink you'd find in Old San Juan, slated to open in the Haight later this week.
Brought to you by the chef of
The Corner
and one of the guys from Cha Cha Cha (and named after a street in San Juan), Parada 22 is the sort of brightly colored, weathered shack where you'll embark for an outdoorsy Latin street food vibe—just indoors, with brick walls, picnic tables and Puerto Rican specialties served in to-go boxes.
The Cha Cha Cha connection means you'll have easy access to pitchers of their sangria from next door, in addition to some obscure beers selected with the help of the Monk's Kettle crew (we heard rumors of Puerto Rican brews if all goes right with customs).
Grab a stool at the counter in front of the glass-paned pantry stocked with cans of guava, bags of coffee beans and cigars brought over from the island. Then start with creamy shrimp (
Camarones a la Criolla
) or the caramelized onion steak (
Biftec Encebollado
) and a side of cheese-topped, fried plantains.
If you want to go all out, order the fried whole fish. It's the only dish actually served on a platter and not in a to-go box.
That would be one big box.