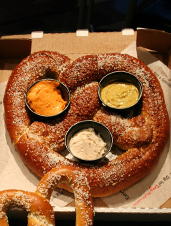 Throughout baseball's history, barriers have been broken.
Jackie Robinson broke the color barrier.
Pete Rose broke the bowl-haircut barrier.
And now, Dodger Stadium is poised to obliterate the moderately sized pretzel barrier.
Introducing the
Victory Knot
, a new inning-crushing behemoth of dough and sea salt, hitting Chavez Ravine just in time for tomorrow's home opener.
Found at Campy's Corner (stand No. 204, field level), the Victory Knot is just a pretzel... like Joe Torre is just an old man in a baseball uniform. We can't confirm whether it's the biggest pretzel in Major League Baseball, but what we do know is that it is designed to feed four people comfortably, it contains no less than two pounds of dough, and it comes to you in a full-size pizza box (and it's a tight fit). It's almost as if the regular ballpark pretzel has been on a steady diet of PEDs (Pretzel Enhancing Drugs) all off-season.
Of course, something this unprecedented deserves multiple condiment options, and the Victory Knot does not disappoint. Helping you consume the man-pretzel are robust-sized dipping bowls of chipotle honey mustard, sweet cinnamon crème and beer cheese.
You'll be happy to hear that the beer cheese is the same type that's served at Lambeau Field.
Wisconsin knows its beer cheese.