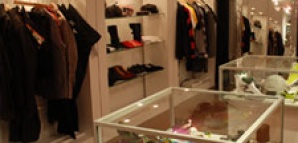 Your shopping philosophy can be boiled down to one word: efficiency.

Introducing Platinum Club, an invitation-only men's store for the interesting and hard-to-find in the world of sneakers, apparel, accessories and the occasional gadget.

Opened by the editors of Complex Magazine, Platinum Club is the best of the street-leaning magazine, distilled and centralized, so that you avoid excess browsing—always a worthy cause in our book.

To find the Club, make your way to Training Camp, the longstanding Bryant Park sneaker store/temple, and seek out what appears to be a frosted glass back-office door. Swing the door open, ascend the stairs and you'll find yourself in a gallery-like space decked in blond and white wood with glass display cases holding bundles of accessories and gadgets.

The selection ranges from apparel by Fred Perry, Gilded Age, Y-3 and Penfield to Leica cameras, Paul Smith eyewear and Baxter grooming products. And of course, out-there shoes like the Reebok Voltron V-Pack, a five-sneaker run based on the classic 80's cartoon (yes the Voltron toy is available as well, no the sneakers do not connect to form some sort of uber-sneaker).

And membership has its privileges: The powers-that-be will track your sizes and favorite brands and alert you when new items hit the shelf. They're also open to suggestions, so if you hear about something you like, odds are they can seek it out for you.

Which is about as efficient as it gets.