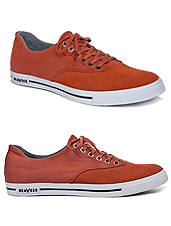 Today, spring 2010 in Chicago is looking a little... less than perfect.
Tomorrow could be a different story. At least for your feet.
Which brings us to the
SeaVees 09/63 Pantone Plimsoll
, the footwear equivalent of sipping poolside mai tais in Palm Springs in 1963 with Nancy Sinatra... or, at the very least, Frank Sinatra Jr. They're available now at Haberdash.
First, a little background: the brand is based in California, and tends to pay homage to the style makers of the '60s—past lines have nodded to the coolness of Steve McQueen and the adrenaline-revving machismo of the Porsche 911. This time around, inspiration comes by way of vintage hues from the Pantone Matching System. (Your favorite color-coordination system.)
The results are the kind of thing Paul Newman would have worn for a day at Monroe Harbor. You'll have your pick from a bold navy or a reddish clay, which will look like you last wore them when you lobbed a few with Federer at the French Open. They're what you'll want to throw on with a pair of shorts when you're heading down to a lakeside champagne picnic this summer, or for weekend cocktails on the RL patio.
You can always use another good drinking shoe.