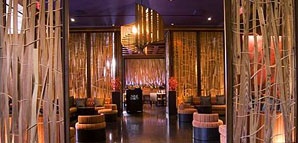 Sometimes a figure from your past can reappear unexpectedly, with whispered promises of change.

And sometimes it's even true—consider, for example, the new chef and menu at NineThirty in the W Los Angeles.

If you were powering through Rande Gerber's adjacent Whiskey Blue lounge for a quick after-work drink, you might not notice anything different among the restaurant's rattan-filled partitions. But former chef Jack Yoss has departed for greener pastures, taking his obsession with foie gras with him. The new globally-influenced modern American menu comes from chef Monique King (known from Firefly Bistro in South Pasadena) and manages to intrigue, even without all the foie gras.

You'll want to try out new autumn-is-here items like Pan-Roasted Wild Mushrooms on a Polenta Cake, Moroccan Roasted Chicken with Saffron Couscous and Pickled Apricots and the Herbed, Grilled Rack of Lamb with Goat Cheese Gnocchi, Roasted Heirloom Squash, Sage Honey and Fig Chutney. King can also create a personalized evening at NineThirty's new table for 22, which is perfect for the next extravaganza you throw for your top 21 friends.

That changed figure from your past might even make the cut.