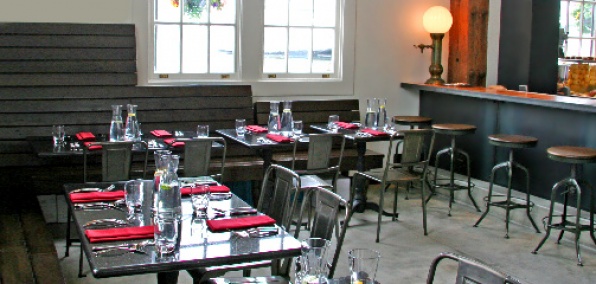 A good secret can only stay under wraps for so long.
Eventually, word gets out.
And if this secret involves a sly underground chef who has been running members-only, covert, nomadic dinner parties for years, well, we're listening...
Introducing
Lafitte
, a new eatery from the guy who ran the guerilla dinner parties called
Subculture Dining
, opening tomorrow for lunch and dinner at Pier 5 along the waterfront.
Walking into the industrial space, you may get the sense that you're in a bustling test kitchen run by a chef who has a penchant for pirate ships—there's a tar-and-feather chandelier, redwood tree-size wood beams dating back to 1918 and floor-to-ceiling windows showcasing Treasure Island on one side (and the oh-so-piratey Transamerica on the other).
Since about half the restaurant is a bustling exhibition kitchen, the spots at the chef's counter are prime for watching the
Iron Chef
-like action. Unless you find yourself there on a rare warm night when the tent is rolled back. In that case, a bayside two-top under the stars will set the mood nicely.
And since you can't take the rebel completely out of the revolutionary, the menu is a constantly rotating slate of exotics like Mangalitsa prosciutto, peppered, candied "$1,000,000 bacon" and off-the-menu dishes like an 18th-century inspired chicken stew that requires a three-day lead time.
A day for each century, perhaps...