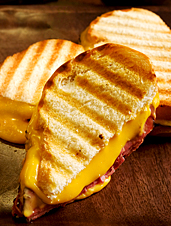 You might not be aware of this, but it's National Grilled Cheese Month. (Yes, we know.
Already
.)
And to celebrate a holiday of this magnitude the right way, we suggest you head to a really good Westside lunch spot... repeatedly. Introducing
Grilled Cheese Month at Clementine
, bringing you a different warm, oozing specialty every day in April.
Drop in anytime (read: now), and you'll be presented with a weekly menu of five impressive sandwiches—and next week a new menu with five more. So basically you can break up every workday from now to April 30 with a different monument to gooeyness.
We're talking
Grilled Torta
(with ham, chorizo and mustard-fried onions) this week, an
Ensley Avenue Cheese Steak
(with cheesy meatloaf, peppers, onions and pepper jack) next week and a
Baked Potato
Melt
the week after that. Oh, and a
Monte Frisco
(turkey, ham and Swiss on French-toast-style sourdough) the week after that. And those are just your Mondays.
The most popular of them all will re-emerge in the final week as the featured favorite.
Time to start stuffing the ballot box...