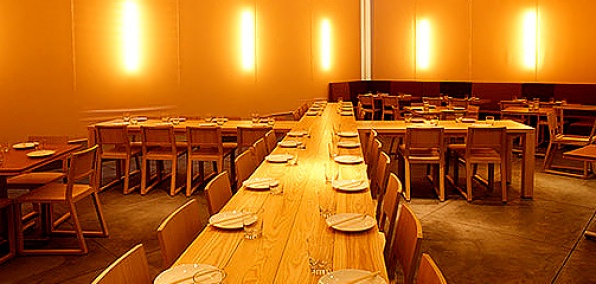 It's called Má Pêche. It's part of the Momofuku empire. It's in Midtown. It opens for lunch and evening cocktails on Wednesday. Pork will be involved. These things you know. Below, a few more nuggets of wisdom about your new favorite lunch spot...

The Line Is a Red Herring
There will be a huge line. You will be dismayed. But remember, this is Midtown. Closer inspection will reveal the line is for the Abercrombie & Fitch flagship/discotheque next door. Proceed to Má Pêche. And please do not feed the tourists.

The Rebirth of the Long Island Iced Tea
The Long Island Iced Tea has a well-deserved reputation as a sort of Dumpster of a cocktail. Prepare to taste it again for the first time, this time as the Short Island: five liquors and some homemade cola syrup. We could almost see a three-Short-Island lunch.

X Marks the Spot
Sit at the large X-shaped communal table, as close to the crux as you can. Then pretend you are part of a UN-like organization that passes mandates supporting seven-spiced sake cocktails and overflowing raw bars.

Order the Secret Steak
It's a well-known fact that the Momofuku empire was built solidly on pork. But at Má Pêche, you want the steak. The 12-ounce Juliet cut is so secret that they will only say, "It comes from the shoulder." Imagine the tenderness of a filet and the flavor of a NY strip.

You Want Fries with That
The steak comes with fries. But the fries are made of rice. And they taste like popcorn.

The Royal Tenenbaums Are Involved
There's only one piece of artwork, and it comes from Eli Cash's apartment in The Royal Tenenbaums: five shirtless men in Mexican wrestling masks driving ATVs. It's on loan from Wes Anderson. And if anyone asks, say it's about man's inhumanity to man...

You Can Be Pie Agnostic
The adjoining branch of the Milk Bar features the unholy FrankenPie, which has two slices of each of their regular pies (crack, candy bar, grasshopper and cinnamon bun) cobbled together as one. Just keep it away from fire.

Or Just Grab a Sandwich
Being able to quickly grab a $6 ham or turkey sandwich to go at Milk Bar seems unfair to the street carts and sandwich shops of Midtown. Shed not one tear for them...