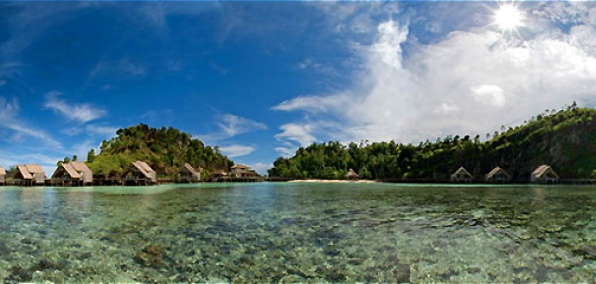 Sometimes you've got to go a long way to get anywhere.

A flight to Jakarta, another to a tiny Papuan haunt called Sorong, a four-hour boat ride to a private island so tiny it barely qualifies for a name.

But once you arrive, prepare for the splendor of the kind of diving Cousteau would weep over...

Welcome to Misool Eco Resort, a far-flung Indonesian outpost dropped above some of the best diving in the world, open now.

In other words, you can forget the Great Barrier Reef. This dive hotel has 425 square miles of protected coral forests to pick from—the busiest ocean floor in the world, with more fish and more species than you'll find anywhere else. You'll spend your days hopping hotel-run boats out to the ocean's more interesting spots, and spend your nights with millionaire hobbyists, alluring nature photographers and Zissou-style adventurers, swapping stories and whiskey bottles in the hotel restaurant.

And when you wake up the next morning, you'll look straight from your bedroom onto a crystal-blue ocean, with nary a cruise ship in sight. The island itself is kept perfectly pristine—the phones all work via satellite, the food mostly comes straight from the ocean, and everything else comes in and leaves on those dive boats—so it's as close to Blue Lagoon territory as you're likely to get.

At least until you go to the blue lagoon.