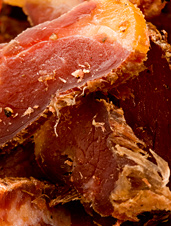 Nightlife rule number 563: drinking on an empty stomach never ends well.
And yet, when you're at a bar, surrounded by a sea of cocktails, without a pretzel in sight, it's bound to happen.
All you really need is a quick something, and if it so happens to come in the form of a meaty bite infused with a shot of alcohol, well, that will have to do...
Introducing
Whiskey Jerky
, your new rye-spiked, cured-beef bar snack, available now at Rye to keep you moving through the night.
This kind of potent bar snack—addled with booze, substantially meaty—may be just what you need to keep your wits about you without worrying about whether your Manhattans will pair correctly.
If you hear "beef jerky" and have flashbacks of the dehydrated salt bomb that is gas-station-style jerky, rest assured that the guys at Rye put the same eye towards quality on the jerky as they do to their drinks. They take grass-fed London broil, then marinate and slow cook it with a healthy dose of Old Overholt rye whiskey and vanilla bean for a spicy, boozy, caramel kick.
Sort of like the Kobe beef of Slim Jims.