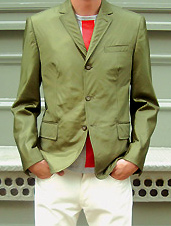 You don't ask a lot from your clothes.
You just want to look sharp, stand out a bit... and, frankly, it would be nice if every once in a while you could throw on something that used to be an old army parachute.
Which brings us to an intriguing new piece of clothing from LA-based C-PAS—introducing the
C-PAS Parachute Blazer
, now available online.
After a couple of under-the-radar seasons, C-PAS has finally found its groove, taking cast-aside military parachutes and cleverly reworking them into a slim-cut blazer guaranteed to add a little international intrigue to your next barbecue in the hills.
Where the parachutes came from is a bit of a mystery—they were sourced from a supplier who either doesn't know where he got them or won't say, which means the door is wide open for you to get creative ("It was originally used for a secret mission over Mammoth").
If you hit it off with this blazer, you'll be happy to know that C-PAS is also pumping out trench coats, shorts, shirts and neckties made from the same airborne-friendly material. (There's even a seersucker-parachute hybrid blazer—perfect for your afternoons at Santa Anita.)
And since the nylon is actually durable and lightweight, it'll work well for your warm LA nights.
But whatever you do, don't pull the cord.
Note:
<a target="_blank" href="http://www.collectionpas.com/html/spring010_look04.html">C-PAS Parachute Blazer</a>, now available by <a href="mailto:Ginfo@collectionpas.com">email inquiry</a>