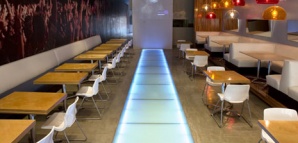 Most restaurants have one prime aisle for appraising everyone who struts past—but usually, it's not an actual catwalk.

Welcome to Mode, a new 24-hour bistro in downtown's Fashion District from the guys behind Royale. The runway is lit from below, the fashion-show feeds are on a loop, and the upstairs VIP lounge has a lightbox, a glass-doored steam shower and a Jacuzzi. Really. (Frolicking models in slow-motion not included.)

Take a trip past a discreet sliding door and up a hidden staircase, and you'll find a private playpen for you and 40 of your most designer-iest friends. The showers have a real use (the lounge is meant for use as a staging area when the runway is used for actual fashion shows), but the Jacuzzi is...well, necessary for other reasons.

Amid the spectacle—you did in theory come to eat—is an accessible French menu with options like Steak Frites at lunch, Confit de Canard at dinner, and a Sour Cream and Hazelnut Waffle with Nutella Sidecar at 4am. Also available during regular, aka post-sunup, breakfast hours, in case you need your morning dose of sour cream.

As luck would have it, Mode pulled itself together in time to debut with a private after-party for the L.A. Fashion Awards tonight. Barring any meltdowns, food service should begin next week.

We hear Steak Frites are in this season.