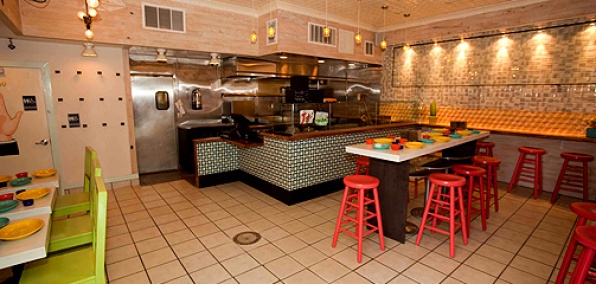 Rules are being broken everywhere.

White: no problem after Labor Day.

No eating before swimming: died with the advent of the swim-up bar.

And now: a solid Mexican joint setting up on a stretch where no good Mexican spot has ever opened before.

Introducing TacoBar, your bright new destination taqueria for Mexican by way of Mexico City, opening next week in the decidedly non-Mexican part of town known as Pac Heights.

Sure, the Mission's got a stronghold when it comes to burritos in San Francisco, but a few select spots have carved something out for themselves, and we think you'll agree that TacoBar is set to join their ranks.

Brought to you by a Nick's Crispy Tacos alum, this is where you'll go when you're looking to satisfy your cravings for a few good, hard shells stuffed with braised pork carnitas or beer-batter fried mahimahi. And like any good student, TacoBar is trying to school the master: in place of Nick's double tortilla, TacoBar is substituting the second tortilla with a tortilla-size shell of crispy cheese known as chicharron de queso.

And while the drink list is the usual Mexican beers and soju-based margaritas, you'll want to check out the dessert menu for a jolt of high-proof ice cream in the form of 100% blue agave tequila ice cream.

Breaking another rule: dessert before dinner.