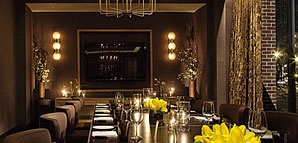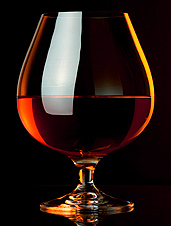 You've long thought that whiskey has the uncanny ability to improve just about any occasion. Chairlift rides. Board meetings. The Gridiron Dinner.
Yes, even sitting at the bar and watching basketball.
Presenting
Rare
Whiskey Flights at Bourbon Steak
, available now to enhance your barside Final Four sipping.
Befitting a spot with
bourbon
in its title, the dark Georgetown haunt is grouping up some of its most coveted whiskeys, because brown liquor can really only be improved with the addition of more brown liquor.
And there are choices: if you're feeling patriotic, cast your lot with the trio of American spirits—a 16-year bourbon, 20-year American whiskey and 22-year rye from Pennsylvania. If it's smoke you're after, look to the Islay scotches, 15 to 25 years old. Or if you're running away with your NCAA pool, drop your winnings on the $200 scotch trio of rare, 40-plus-year-old cask bottlings. (Thank you, Butler.) The star of that show: an ultra-rare 1967 Springbank, aka the Summer of Love of whiskeys.
But after facing down three loaded barrels of scotch, you're going to need some sustenance. You'll have to make do with chocolate. Fortunately, that comes in a whiskey-friendly flight as well—specifically, chocolate custard with red velvet cake, chocolate brownie with Nutella ice cream and a devil's food cake with dehydrated chocolate mousse.
Oh, and did we mention the Masters is next weekend...