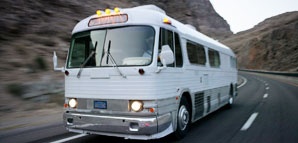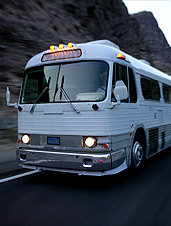 Castles, gourmet kitchens in dive bars, underwater bars on manmade islands—you've been known to enjoy a good meal wherever it happens to find you.
And now it's time to take your penchant for underground scene-making on the road...
Introducing
Diamond Lil
, a traveling dinner party aboard a 1957 GMC bus from the Polish duo behind
Free Range Dining
, now taking reservations for its debut shindig.
If you can wrap your head around having an elegant evening of cocktails and haute cuisine on a MUNI bus, you'll start to get the idea—after serving as a Greyhound bus, Lil's been stripped of her ugly seats and all the other unsavory remnants of public transportation.
In place of all that fabric, you'll soon find reclaimed wood tables, captain's chairs and a full gourmet kitchen in the back. But for now, they're keeping things bare-bones—think standing room only, empty wood walls and shaggy carpeting—for the first excursion to a pig roast at a nearby winery.
And once the final touches are complete, expect trips to Napa, Point Reyes or just secluded spots in the city, where the chef will start cooking en route, drinks will flow and you'll wonder why you never ate on a bus before.
Actually, you won't wonder that...