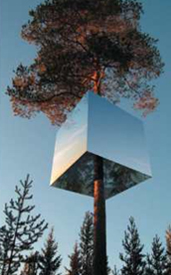 You're all for communing with nature.
But if you're going to sleep in the trees, we understand if you prefer to keep a king-size pillow-soft mattress handy.
Or, if possible, a sauna or two.
Welcome to Sweden's
Treehotel
, a set of six high-design suites suspended 15 feet above the subarctic forest floor, taking reservations now for its July opening.
It's the kind of thing you'd dream up if you watched
2001
while listening to ABBA... in the jungle. But in the middle of the Swedish wilderness, just a few degrees shy of the Arctic Circle, a band of innkeepers has turned all that daydreaming into a fully functional hotel. And they're accepting guests.
One suite lets you shack up in a human-size bird's nest, surrounded by a layer of thatched sticks, riddled with snow, moss and whatever else falls out of the trees. Another does its best impression of a UFO, with a saucer shape and abduction-ready porthole lights. Another ditches walls entirely, letting you set up in a massive mirrored cube with panoramic forest views. If you stop by during the summer, also known as midnight-sun season, you might even catch a 360-degree sunset. (Note to self: bring eyeshades.)
When you're done basking in the rustic tranquility, you can stop by the central inn for a sauna or a turn in the backyard hot tub, but the most important stuff will be coming from the kitchen: local delicacies like elk and reindeer steak, ferried out by a butler to whichever modernist marvel you happen to be staying in.
Don't worry. He's a climber.