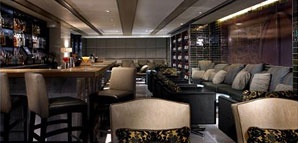 It's been a big week here.
And now, at long last, it's martini time. Which means it's time to break out... some eggs from a game bird.
Allow us to explain...
Introducing
The Dirty Bird Cocktail
, an unexpectedly delicious and quite possibly first-of-its-kind cocktail made with quail eggs, available now at Urbana.
Basically, it's like a dirty martini from the lab of Dr. Frankenstein. In this case, your Frankenstein is a mixologist named Amy Troutmiller, who begins your cocktail's journey five days before you belly up to her underground bar. That's when she infuses several jars of vodka with copious amounts of sliced horseradish. Then, shortly before that spicy brew hits your glass, it gets shaken with olive juice and, yes, beet puree. (That old trick.)
But, as so often happens, things get really interesting when your garnish splashes down: two tiny quail eggs, which have been pickled and preserved behind the bar in garlic, shallots, vinegar, peppercorns, salt and mustard seed. (Peppercorns: always key.)
Now, we can almost see that arched eyebrow of yours. But trust us: this thing opens with some attention-getting heat on the back of your tongue (that's the horseradish), before giving way to the mellow sweetness of the beet and a final slap of brine. Then you devour the eggs, for a final, subtle, multi-flavored explosion of tastiness.
Which is your favorite form of tastiness.