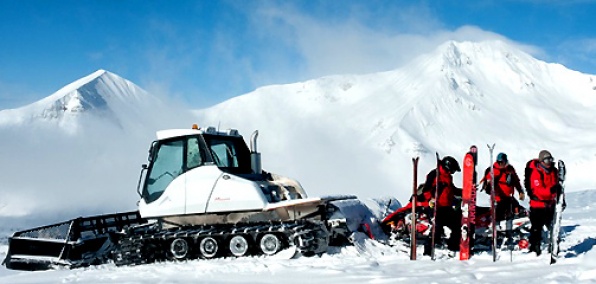 It's the kind of thing you only see in the movies. A remote mountain. Virgin powder. A chopper descends and drops a guy onto a huge, untouched mountain slope.

Now starring in that movie: you.

Welcome to Cat Skiing at CS Irwin, bringing you private mountain skiing in more than 1,000 acres of unblemished wilderness, taking reservations now.

Consider it the snowy, mountain-filled reserve in the western Rockies you've been meaning to buy yourself. You'll start by crawling up one of the West Elk Mountains (about 12 miles from Crested Butte) in a plush Snow Cat—basically, a tank-like truck that can climb up a ski slope—that's been outfitted with everything from glove dryers to a flat-screen. (Because the scenery shouldn't keep you from catching up on Lost...)

You'll be one of 10 people who get to ski there that day. You and your nine favorite snow bunnies will fly into Gunnison and shuttle 30 minutes to CB. CSI'll transport you to their "movie cabin" in Irwin and supply Wagner powder skis or Winterstick boards if you need them. Then you'll take eight to 10 Snow Cat climbs into the backcountry, where two seasoned guides will lead you to fresh terrain—and 15-minute descents over 2,100 vertical feet of sweet powder.

As befits your prowess on the slopes, a variety of sandwiches and liquid indulgences will be waiting when you après at the cabin. And as befits your stature in society, a camera crew will be documenting every precious moment in photo and video.

We were serious about that movie thing.