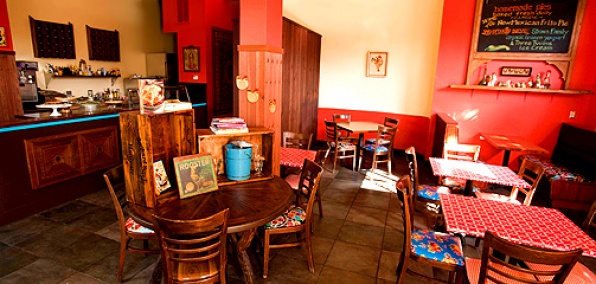 We rarely spend any time pondering the merits of a bag of chips.

And that's the way it should be.

But sometimes a bag of chips is more than just a bag of chips—sometimes it's a vessel of innovation, experimentation and beef. And that's the bag of chips we want to ponder...

Introducing Chile Pies and Ice Cream, your singular source in the city for the New Mexican version of the flavor bomb of Fritos, ground beef, beans and red chile sauce known as the Frito Pie, opening tomorrow in the Western Addition.

Brought to you by the same crew that runs Green Chile Kitchen, this is the sort of saloon-style country kitchen where you'll go when you've finally reached the point in your life when you're open to taking ordinary snack foods to the next level.

Start with the Frito Pie: watch as they open a single-serve bag of Fritos and then pile on spiced Niman Ranch ground beef, pinto beans and red chile sauce straight into the bag—just like they've done at the Santa Fe Woolworth's counter since the 1960s (where every culinary dream begins).

And since this is predominantly a pie bakery, you'll want to end things with a slice of Green Chile Apple Pie with cheddar crust. But when we say "pie," we mean milkshake: they'll take any of their slices and blend them with Straus Family ice cream.

Up next: the majesty of the pizza smoothie.