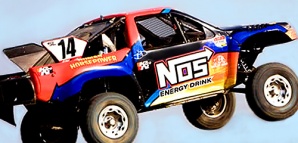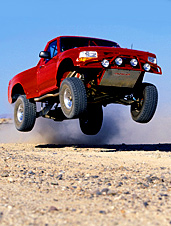 Spontaneity has a way of making good things great.
Like that time you went out for a quick drink, and we didn't see you for three days, and then you were muttering something about champagne, skinny dipping and "the sunlight in Paris."
And now: a quiet week in the Southwest that might just turn into a death-defying battle of speed and wits.
Welcome to the
SuperLite Championship Series Arrive and Drive Program
, which lets you rent a real-life race truck on a moment's notice, racing now.
Basically, it's as if Formula One started accepting walk-ins. So long as you possess raw talent and unbridled moxie—check, check—you can join up with a touring band of race truck drivers with only a few days' notice. Your steed: a supercharged light truck (tended to by your own pit crew), and your tracks include some of the same ones used by NASCAR. (Trophy wife for the pit not provided.)
So here's what you do: first, watch
Days of Thunder
and
Talladega Nights
back-to-back. Then call a day or two ahead to reserve a truck—for you, for your buddy getting married this summer, for that guy you're afraid to carpool with. You'll be squaring off against all manner of X Games champs and an attractive lass named Corry Weller, before a crowd befitting your advanced driving skills, all at speeds of about 100 miles an hour. Your price of admission is a not inconsiderable $7,500, but you'll also be competing for $80,000 in prize money.
And you can't put a price on glory.