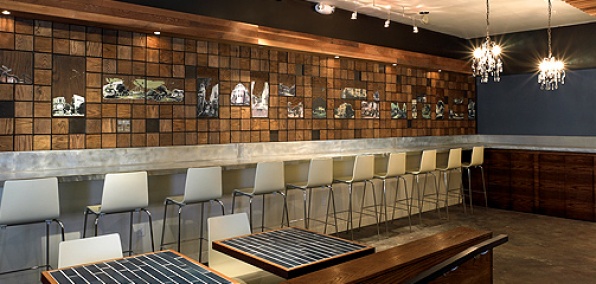 The art of multitasking is a precarious dance.

And while we generally endorse intense, single-minded focus when it comes to the chef game, we just met someone whose cooking/serving/entertaining abilities may be changing the game.

Say hello to Jake des Voignes, co-owner and chef of Local: Mission Eatery, a new Thursday-night, four-course dining experience exclusively manned by chefs, taking reservations for its debut dinner now.

Being at Local feels like being invited to your earnest Mission friend's casual house party—if your friend happens to be a charming chef with a rustic, woodsy, den-like space.

Like at a true dinner party, you'll want to bring wine (they've arranged for the guys at Terroir to have pairings ready for you to grab and go, and are also working with City Beer). When you show up, take over the stools in front of the 30-foot wood-tile mural of 24th Street, or the chef's counter where you can watch the action in the kitchen. Once situated, you'll see that it won't follow the formality of a regular restaurant as Jake and his chefs will be cooking, plating and serving all the snacks and courses that follow.

They're also open during the day for lunch, making it your source for a rotation of sandwiches—like the Lucky Dog Steak, a slab of grilled steak topped with roasted, pickled spring onions.

Eating it will take intense, single-minded focus.