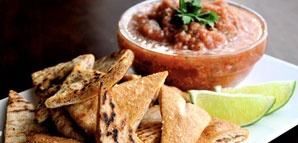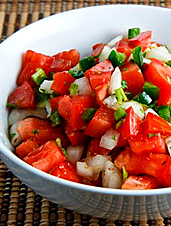 You've gone to great lengths for life-changing experiences. Living among the native peoples of Borneo. Kayaking through the Everglades. Your cultural immersion in the gin houses of London.
And now: heading to H Street for life-changing salsa.
Introducing
Chaz Powers' Salsas
, a rotating array of cutting-edge chip accoutrements at already-legendary H Street dive The Pug.
As with any adventure, this mission should not be embarked upon lightly. You'll stroll into the boxing-themed bar and look for a bartender in a straw fedora. That's Chaz. As he pours your first Natty Boh, you'll want to introduce yourself before inquiring as to what salsas he's concocted that day.
Now, let's be clear: while some of them—like his tomato and three-pepper salsa—can bring the heat, these aren't your run-of-the-mill picantes. Instead, you'll find seasonal fruit like melon and pomegranate, bleu cheese and exotic oils—all the products of Chaz's tinkering in his Baltimore laboratory (okay, it's his kitchen).
Among your options—served up in humble plastic cups—might be
Dill-Apple-Cucumber
(goes great with cold gin),
Blue Crab Chili
or the
Marryin' Berry
, a mix of blueberry, raspberry and blackberry (your salsa may be censured). Chaz is happy to tell you all about each of his creations—just not the recipes. (A man's salsas go with him to the grave.)
But take heed: given the unpredictable nature of his work, we can't guarantee he'll have your favorite on any given night.
Which gives you a built-in excuse to drink again the next day.