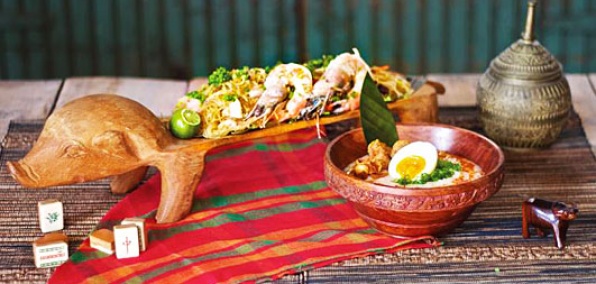 Some places you get so excited about, you want to bring all your friends.

You'll need to refrain this time. Because they won't all fit.

It's called Bad Saint, and it's the diminutive Filipino spot you may have heard about, now open in Columbia Heights.

This place is so tiny—just a few stools looking into the open kitchen, a few more at a counter looking out onto 11th Street and two booths—that they can only accommodate parties of four or fewer. So make it easy on everyone involved and just take a date.

To get here, start at Room 11, and walk down a few doors. They'll take your name and text you when a couple seats are ready.

Once you're in, you'll notice things like the cool metal ceiling, a carved wooden pig and a wall inlaid with dominoes. That, and a big glass-and-metal shelf full of rums and other liquors. They go into things you should drink, like a Manila Sling, with sherry and jasmine tincture.

Then just start pointing at the menu. Maybe you'll land on marinated pork belly. Or rice noodles with wood ear mushrooms. Or dried beef with duck egg.

Yes, there's room for it all.