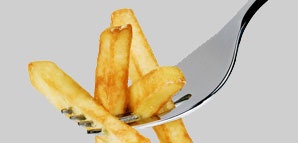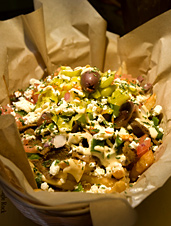 There is a revolution upon us.
And we don't mean to alarm you, but it involves the hallowed french fry.
Now taking your favorite staple to unprecedented new heights—
Street-Cart Fries
, a gluttonous pile of Mediterranean wonder, now being served at Spitz as of today.
Head over to the Little Tokyo outpost this afternoon for a spot in the sun (the fries are at both locations, but only this one has beer and wine), and soon you'll find a giant basket of warm, crisp fries—string cut or sweet potato—topped with feta that melts admirably quickly. On top of that you'll find uncountable layers of garlic aioli, lettuce, peppers, onions, olives, more feta and the half-beef/half-lamb meat used in
Spitz's
famed döner kebabs. Think of them sort of like a mountain of animal-style fries, if you went to an In-N-Out in Madrid.
It's available anytime, but during happy hour—which, by the way, is 3 to 7pm weekdays, and all weekend from opening to closing—it's only $4 without meat, $6.50 with. (Chicken is also an option. You know, if you're watching what you eat.) And happy hour also means $3 draft beers, $4 sangria and $5 off all pitchers.
We see you walking out of there $20 lighter, and very happy.