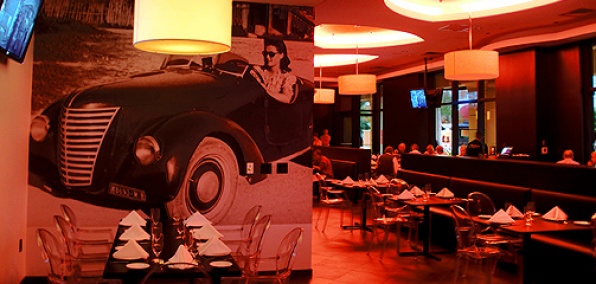 We know what you're thinking: it's the weekend, time to take the Lambo out for a spin.
Except it's a bit muggy out today—not the best for a joyride through the Everglades. Instead, we'd like to suggest a glass of wine and a slice of prosciutto at the restaurant equivalent.
Introducing
Tonino Lamborghini
Caffé Corsa
, the first stateside outpost of the popular Italian café, brought to you by, yes, Lamborghini.
First of all: we know. The thought of dining in a restaurant that's owned by a car company conjures ridiculous images of a Ford Taurus burger bar, a Buick LeSabre shake shack or even a Toyota Camry sushi den (where the spicy tuna rolls have been known to suddenly and involuntarily leap into patrons' mouths).
But this is nothing like that. It's actually quite classy. Located at the Gulfstream casino complex, the place is neo-industrial and sporty, with stainless steel fixtures, lipstick-red barstools, a bull logo projected onto the ceiling and a thorough
menu
of Italian wines and wood-oven-fired pizzas.
And whether you come in for a quick espresso or a full-blown night of sports-car-themed romance, you'll definitely want to try the salumi, with options like the
Culatello
, sliced from dry-cured pork leg that has been aged for 14 months.
Think of it as the Diablo of cold cuts.