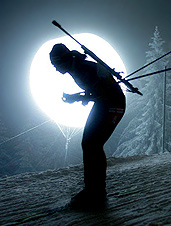 Every Winter Olympics, as you behold one astonishing Olympic feat after another, you occasionally find yourself thinking, "What a bunch of rookies."
And while it's not always true—Johnny Weir's glitter-and-sequin ensembles aren't for amateurs—we're happy to tell you that there's now a way for you to recreate one event almost exactly.
It involves a gun.
Welcome to
Soldier Hollow Cross-Country Ski Resort
, bringing the magic of Nordic biathlon to near Park City, Utah, and taking reservations now.
In case you've already forgotten, the biathlon's the sport where spandex-suited Euros cross-country ski in a big loop while pausing only to shoulder a rifle and blast away at targets—which you can do at the very same spot where the 2002 Games took place.
You'll start with a quick safety session led by an Olympian (this should prevent any Cheneys). Then you'll don a real-life biathlon uni in form-fitting spandex (as if there's any other kind) before hitting the slopes with about a dozen other skiing/rifling enthusiasts. While you ski (or, in the summer, run or mountain bike), you'll be packing 50 rounds of ammo and an Olympic .22-caliber rifle for when the whole thing concludes with a ski- and shoot-off against your friends. (Like
Deadwood
, on skis.)
When it's all over, you'll proudly strut onto the awards podium and receive a glimmering...participation certificate. Which you can brag about over lobster gnocchi and beers at the Blue Boar Inn & Restaurant next door.
Remember—shooting,
then
drinking.