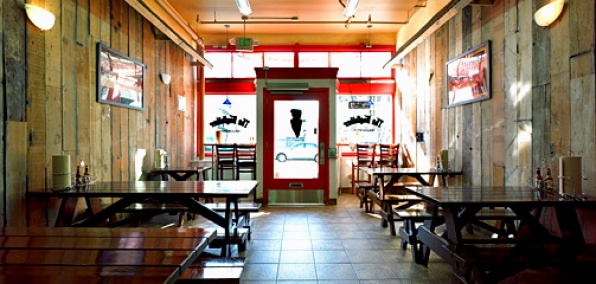 Generally speaking, pizza and North Beach go hand in hand.

But sometimes—even in North Beach—you want to mix things up. And we're not talking about switching from cheese to pepperoni.

Enter The Dogfather, the kind of low-key sausage joint—or salsicceria, if you're Italian—meant to satisfy your gourmet, quick-bite fix, open now on Green Street.

Located in the old North Beach Lobster Shack space, Dogfather is that no-frills, father-and-son-owned eatery you'll go to after a night of cocktailing along Columbus—or more likely en route from one watering hole to the next.

The bulldog in tails etched on the door will be your cue that you're in the right spot (though the mounted moose antlers might make you think otherwise). And the picnic tables, wood-plank walls and tin roof overhang will give you that indoor-outdoor vibe that you need when you're craving a savory bite to sustain you for the night's second act. Depending on what that is, you could stick with classic dogs or try gourmet sausages ranging from Louisiana hot links to wild boar.

But we think you'll probably need one of the house specialties like the Little P (garlic sausage with crispy pancetta, chili, onions and cheddar) or the Dog Corleone (hot Italian sausage, sun-dried tomatoes, artichoke hearts and mozzarella).

Which is pretty hard to refuse.