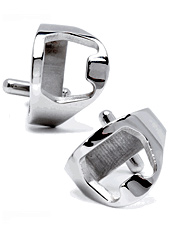 You've never been one to wear your impressive résumé of tricks on your sleeve.
But maybe just one trick wouldn't hurt.
Introducing
Stainless Steel Bottle Opener Cufflinks
, a tiny miracle of engineering that puts a bottle opener where you need it most—your shirt sleeve—available now.
Basically it's a wondrous, architectural-looking, stainless-steel dollop that can fasten your French-cuff shirts, pry open a good bottle of lager and then help you start a fascinating conversation (one presumably pertaining to shirts and lagers). And while you're no doubt worried that this is a case of function over form, let us assure you that the beauty matches the brains. (Like a supermodel who went to Harvard.)
So imagine a rooftop soiree, or a family wedding. You sneak out with a couple of beers, or maybe the bartender goes down with an injury—known to the medical community as "bottle-opening elbow"—which creates an opening for you to play your trump card. "Let me handle that," you smile, as a damsel in distress struggles with 12 ounces of something with the word
Lite
in the name. Pull the bottle to your sleeve and slowly, carefully remove the cap with grace and aplomb, before returning it to the lady.
Just make sure it's not a twist-off.