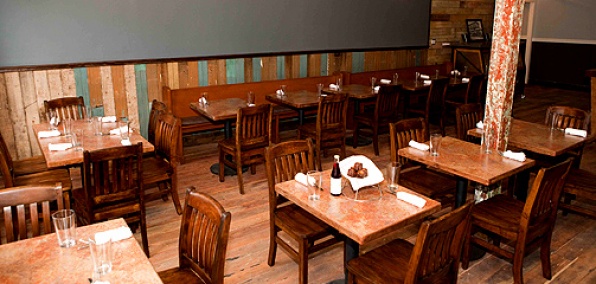 We have nothing against dinner.

It's a fine institution. But sometimes the constraints of dinner hours make it hard to navigate an evening in grand style—unwinding, cocktails, urban croquet.

Problem is, the city's always running low on date-worthy restaurants that stay open late enough to accommodate such an itinerary. But we found one to add to the mix...

Introducing Radius, a new all-day and—more importantly—post-midnight eatery dedicated to all things local, slated for its soft-opening this Friday in SoMa.

Located in the corner spot steps from Bloodhound, Radius is where you'll go for a bite after drinking martinis late into the night (especially if you started with gin fizzes at Heaven's Dog).

It's two restaurants in one, and they're still putting the finishing touches on the dining room. So you'll want to focus on the more casual half—complete with a rustic New England barn vibe, reclaimed church pew seating and a mini farmers' market stand (for your many late-night grocery shopping needs).

It's the perfect spot for midnight Mediterranean fried chicken, a little Trumer and a few glasses of wine from the tap. Then, in a few weeks, when the more formal restaurant-side dining room opens, you'll be able to tuck away into a two-top in the back corner and share the 12-hour braised veal shank.

And then on to a nightcap...
Note:
<a target="_blank" href="http://www.radiussf.com/">Radius</a>, café opens Friday, March 12, 415-525-3676