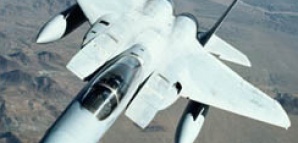 "You can be my wingman any day." "Bullshit. You can be mine."

How many times have you heard that line (or recited it in a drunken stupor)? Well, now you get to live it.

Go Ballistic
The ultimate solution to mid-winter boredom, Incredible Adventures is a Florida-based extreme travel agency that has a special arrangement (don't ask) with the people who design, build and test Russian MiGs. What that means for you is the Top Gun Package, a weeklong luxury vacation in Moscow that includes five trips in the MiG of your choice and a custom-made Russian flight suit. Take off at full burner, climb to 70,000 feet, do a 4g negative dive (ok, so you can't do a 4g negative dive) and travel at more than twice the speed of sound.

Think Outside The Box
If "buzzing the tower" is not your cup of tea, Incredible Adventures has 20 other adrenaline-spiked vacation packages that will make you feel like more of a man than holding an umbrella drink on a beach ever will—like training with an Urban Ops hostage rescue team, swimming with sharks, and prepping for a trip to space.

And if you're so jaded that none of these excite you, Incredible Adventures will gladly create a custom program for you. Just remember, Maverick: Don't let your ego write a check your body can't cash.