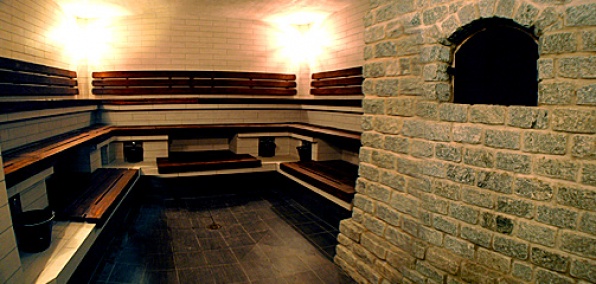 As you face these long, gray March days waiting for the first thaw, we understand if you need some encouragement.

Which brings us to Chicago Sweatlodge, where the last torturous days of winter face a withering onslaught of 240-degree saunas, killer rubdowns and lots of Ukrainian beer.

When you enter, you'll be offered a locker key, flip-flops, and an assortment of fluffy towels and wraparounds to preserve your modesty (so, you know, feel free to disregard), and then ushered into a bright, spotless dining hall. Burly Eastern Europeans will look up from their chebureki (beef and pork dumplings), ukha (slow-boiled white fish) and that little-known Minsk specialty, jalapeño poppers, before promptly going back to ignoring you.

Mosey up to the counter, order a Gatorade—or the Russian version of Gatorade (pronounced vod-ka)—before heading to the adjacent sauna area. You'll find a wet Turkish sauna near a searing-hot dry Russian sauna, outfitted with imposing stone furnaces that look like they were quarried from Mount Doom. In the center of the two, an ice-cold plunging pool waits to restore your equilibrium.

After you're done sweating/icing, find one of the black leather recliners or schedule a massage with a brawny Russian-trained masseur who'll knead, rub and otherwise karate chop the tension from your aching muscles in a peaceful back therapy room.

Your stress deserves a little Eastern Promises-style pummeling.