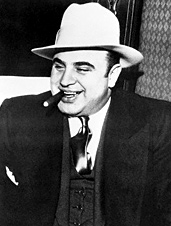 Today, we're sending you to a speakeasy.
Now, before you get all crazy, we're going to just put this out there: there's no booze.
Not a drop...
But there used to be. Guys named Lefty used to hang out here. And Sinatra sang here. The founder of the Soviet Red Army even lived here. And so it's only fitting that this vintage bastion of underground consumption and vice is now a brand-new...museum.
Introducing the
Museum of the American Gangster,
an homage to the gentlemen thieves of yore, opening in a Prohibition-era speakeasy on St. Marks for previews this Sunday.
If there's any place that's fitting for a museum dedicated to bootleggers, thugs, triggermen and hustlers, it's the dark innards of an old rowdy speakeasy—they kept the old beer locker, circular bar (which was the longest bar in the city at one point) and smuggling tunnels intact. (Sort of like the Whitney Biennial, but nothing like the Whitney Biennial.)
Founded to preserve original documents from the Prohibition era, the exhibit is chock-full of photographs, stories and artifacts—an old Appalachian copper still, tommy guns, bottles of vintage whiskey proclaiming "no government additives" and a barber chair from the Park Sheraton where a mob boss was whacked in 1957.
And the owners are even holding out hope of one day getting a liquor license.
But that shouldn't stop them from serving booze...