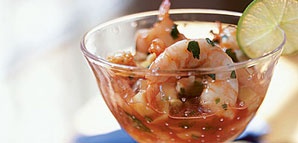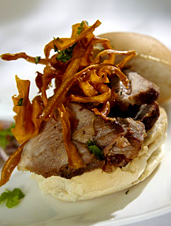 The midday sandwich. It's good to you. It treats you right.
But lately you've been feeling like you need to shake up the old hoagie routine. Add a jolt of South American flair.
And maybe a bunch of french fries, stuffed into a bun...
Introducing
D-Lima,
your new Peruvian sandwich joint and ceviche bar, now open downtown.
Think of D-Lima as the neighborhood shop in Lima you always wanted, without the flight. Walking into the bright space, you'll sense plenty of fresh fish marinating in lime and corn dressing, a soundtrack of Latin pop and comely staffers taking your order in irresistible accents.
Here you'll find staples of any self-respecting Andean explorer's diet: ceviches, salads and
sandwiches
dressed with copious amounts of huancaina sauce (a topping you absolutely have to try, made with cheese and chili).
The place is open all day, but you'll swing by mostly for informal lunches, where you'll grab a sandwich like the
Barranco
made with roasted pork and slathered with a fiery Peruvian aji panka-teriyaki sauce.
And if you're feeling particularly low on carbs, you may want to invest in the
Av. Larco,
a huge pulled-chicken-breast sandwich topped with a mountain of shoestring fries.
French fries = best condiment ever.