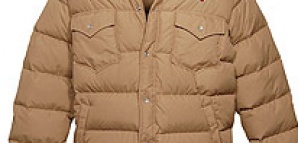 Today's forecast: briskness.

Tomorrow's forecast: four months of cold.

Only this time around, don't get burned—uh, figuratively—by a coat that looks great but leaves you frosty.

Here to provide warmth and a woodsman's style: Penfield.

Penfield jackets are stuffed with an impressive 100% goose down to keep things balmy, yet lightweight and non-bulky. Their Teflon coatings ward off the rain, and Nylon Ripstop fabrics stay strong for years against the harshest elements (i.e., if that hurricane ever hits, you'll have something to wear to the search party).

Penfield started in Massachusetts in the '70s, so they know extreme cold (and disco), but for the past couple of decades, they've only been available in England. Over there, they've become something of a sensation, spotted on everyone from Sean Connery to Daniel Craig. (They're going for the "Bond actors" demographic.)

One standout is the Rockford, with two chest pockets and a throwback, outdoorsy plaid shoulder pattern. Though only moderately puffy, it'll stand up to anything you'll face at this latitude, all while keeping you a couple layers toastier than that fraying pea coat.

At the very least, it'll tide you over until global warming kicks in.