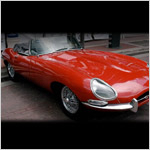 1972 JAGUAR E-TYPE
The Wagon: The Club requires membership, but membership has its privileges, like this 4-speed corvette killer. The V12 is strong enough to make the tires squeal, and loud enough to drown out your cell. You can't get this one at Avis.
The Damage: $1,500 initiation fee, then $7,000 a year for full membership.
The Payoff: A sunny day and a car that looks like it drove out of a movie.