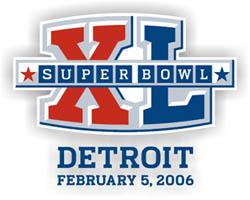 Unlike the Steelers' playbook, the plan for a good Super Bowl Sunday is breathtakingly simple: a big screen, plenty of drink, greasy food, cheerleaders and some reckless gambling.
We've got you covered.
SET THE SCREEN:
There's no denying the fact that everything is better on plasma. So if you haven't gotten around to buying one, ring
Liman Video Rental
(212-594-0086). They have plasmas in 42", 50", and, for the size conscious, gargantuan 60" varieties. Their rates are reasonable and they'll bring it right to your front door.
STAY HYDRATED:
B & E Beverage
(212-243-6812) has more than 60 beers available (not counting Bacardi Silver) for delivery by the case. Orders placed as late as this afternoon will arrive by end of day Saturday. Try not to dip into the stash too much before gametime on Sunday.
EAT RIGHT:
Either BBQ or guac and chips (or both) is the way to go. If BBQ is your preference, the best in town is at
Daisy May's
(212-977-1500). A mouthwatering Super Bowl menu is available for delivery and includes both their
Kansas City Style Sweet & Sticky Ribs
and the
Chipotle Chile Chicken Wings
, in addition to sides that are a lot more satisfying than the third quarter. If it's the Tex-Mex you're after,
Dos Caminos'
(212-294-1000)
Guac & Tacos
Super Bowl menu gets you plenty of both. Of course, those who prefer a more aggressive tack also have the option of ordering a
giant whole roast suckling pig from Spanky's
.
GET A CHEERING SECTION:
Though there's plenty to be said for the
Lingerie Bowl
, there's more to be said for stripper house calls.
Centerfoldstrips.com
provides ladies for pre-game, half-time, or post-game "shows" (yes, they will come dressed in Steelers or Seahawks cheerleading outfits; no, they will not mind getting you another beer from the kitchen). Best of all, an extensive website allows you to handpick your cheerleaders ahead of time.
GO FOR BROKE:
There's plenty of gambling to be done at
Betbug
, but side bets are a good time too. Wager on the actual number of minutes it takes to go from the two-minute warning to quarter's end, the first player to embarrass himself with "Hi Mom" written on his hand, and which of your buddies' girlfriends will be the first to ask who's playing.
Now you're ready for some football.