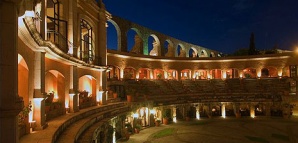 There are two kinds of people in this world: those who run from the bulls, and those who stay overnight in the ring.

Once upon a time in Mexico, the Plaza de Toros San Pedro, North America's largest bullring, hosted epic bullfighting matches in colonial center Zacatecas. Centuries later, the toros have departed but the theater is alive and well—and, as all obsolete architectural landmarks should be, renovated into a boutique hotel.

The five-star result, the Quinta Real Zacatecas, is a modern torero's paradise. The still-intact arena El Ruedo serves as a gorgeous central patio, with cobblestones and fountains overlaying the hoof-stomped floor where the bulls once ran. Encircling the ring are 49 spacious suites which, with vaulted ceilings and antique furnishings, are as Old World extravagant as...well, bullfighting itself.

After a day exploring the winding streets and cable-car lined hills of the mining village, head ringside for the best meal in town: The former VIP stands now hold the three-story La Plaza restaurant, featuring haute Mexican cuisine and picture windows overlooking the ring. And since any self-respecting bullfighter knows how to get a little down-and-dirty, end the night at the Botarel Bar, built into the animal hold—nothing says atmosphere like low ceilings, exposed brick and bullpen-close quarters.

Keep the red flag at the ready.