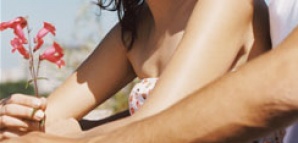 Valentine's Day can be a real minefield. But if you really want to know what works, we say, ask a woman.
So we did. We assembled the UD Labs' field research team and polled 100 of the most high maintenance women we could find. The results, while not completely shocking, serve as an important reminder: When it comes to
real
love, sometimes it's not the thought that counts, but the material things.
After a rigorous analysis of the survey data, UD is pleased to present you with the findings:
FINDING #1: When in doubt, go French.
UD RECOMMENDATION:
Apparently nothing gets women more in the mood than French food, wine, and anything else reminiscent of a little "voulez-vous." So with that in mind, our recommendation for this Valentine's Day: go French. You may have to knock back a Bud after all this, but by the end of it, she'll be saying "oui" (and let's face it, not many things sound better than that).
FINDING #2: Breakfast in bed, though cheesy, goes over quite well.
UD RECOMMENDATION:
Although this one entails getting up earlier, you may be rewarded with some on-the-spot love. Start her day off with cafe au lait and a pain au chocolat, or an assortment of croissants. Pop open the
champagne
and OJ for a mimosa and you're golden. Great French cafes include:
Le Gamin
,
Balthazar Bakery
,
Payard
, and
Ceci Cela
(55 Spring, 212-274-9179 or 166 Chambers, 212-566-8933).
FINDING #3: It's not worth much if no one else can see it
.
UD RECOMMENDATION:
With Valentine's Day falling on a work day, a bouquet of flowers sent to her office will ensure her friends see how much you love her—the bigger, the better (send another to her home for bonus points). The best French florists are rumored to be
Polux Fleuriste
(248 Mott, 212-219-9646). For midtowners, try
Christian Tortu
at Takashimaya (693 5th Ave, 212-350-0111); for uptown,
Wild Poppy
(159 E. 92nd St, 212-717-5717); and for anywhere,
L'Olivier
.
FINDING #4:
She's a bigger fan of "Pretty Woman" than you think.
UD RECOMMENDATION:
Things that make her feel sexy come with built-in rewards for you. Like the ultra-luxe French lingerie
ERES
—the only brand of its kind that can make her feel like the lady she is
and
also make you feel like you've scored a high-priced hooker.
FINDING #5: Real love is expensive.
UD RECOMMENDATION:
The real labor of love is shopping
with
her, but if that's too much to ask, take the easy route with some point-and-click action (latest 'it' jewelry from Marie-Helene de
Taillac
is a great bet; or try Hermes old-school enamel
bangles
for the girl who can't get enough of a good label). Or bite the bullet and head to Parisian-style townhouse store
Albertine
, where owner Kyung Lee won't mind holding your hand while you choose something from her fashion-insider collection. (13 Christopher, 212-924-8515).