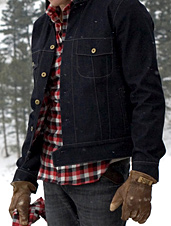 The week's almost a wrap. You have performed your tasks with grace, dignity and a critically acclaimed balance of good humor and philosophical rigor. For this, the powers that be have rewarded you with a blustery day of relentless wintry fury.
So you need to put as much thick, warming flannel as possible between you and the onslaught. We know some guys who can help...
Introducing
100 Days,
a line of unrepentant ruggedness, available now online to fend off snow, wind and other indignities the heavens are now raining down on you.
Think of 100 Days as the five easy pieces you need to say "enough is enough" to Mother Nature, designed by some guys who grew up in the Rocky Mountains. Guys who met as Boy Scouts when they were eight, and dreamed up a fashion line during a motorcycle trip across Spain. And based their first collection on the styles of Depression-era, train-hopping hobos (back when the must-have accessory was a handkerchief tied to a stick).
It's the kind of stuff you would have thrown on this morning without even thinking about it: thick Portuguese flannel shirts, a flannel-lined denim jacket (that comes with a pocketknife) and cowhide cattle-roping gloves. The kind of stuff to wear while shoveling distressed damsels out of snowed-in subterranean wine bars (snow and chivalry are perfect bedfellows).
Always trust a Boy Scout on a motorcycle.