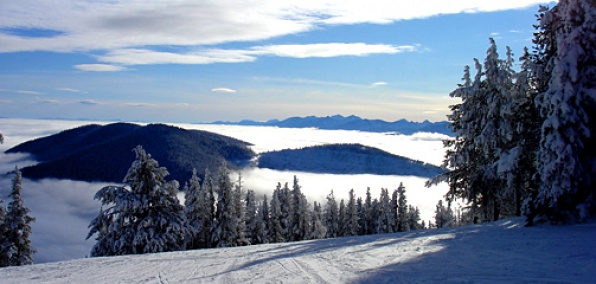 Ah, the lift line. Hours lost every season waiting amid a sea of Bode Miller wannabes poured into spandex race suits. It's time to take a stand.

In fact, we know of a place where you can entertain your favorite snow bunny with the same degree of privacy you'd find inside your chalet. A place where the mountain is all yours...

Welcome to Turner Mountain Ski Area, a northwestern Montana hill where you can relish the sanctity of fresh tracks, empty runs and whatever cold-air intimacies you dare to explore, available now for rent.

Think of this as your own personal, snowy Eden...but with better powder. First, you'll have to get to Libby, a sleepy town about 40 minutes away from the hill, where you'll bed down in a bed-and-breakfast. But then you'll have 400 acres of virginal snow all to yourself, all for the bargain-basement price of...$2,500 per day, or roughly half off your last lift ticket in Vail. The chair lift won't spin till you give the go-ahead, and then it'll deliver you atop a 5,950-foot vertical, where 60% of the runs are black diamonds. (Or as you call them, bunny slopes.)

Between runs, you'll have a full staff at your beck and call to prep burgers and chili at the restaurant in the main lodge—though we assume they're happy to share the best spots to catch some air. And then, at the end of your reign, you'll have access to all the firewood you need for a little après-ski bonfire.

Which happens to be your favorite kind of bonfire.