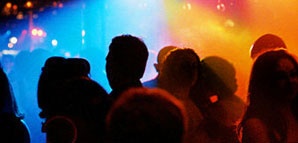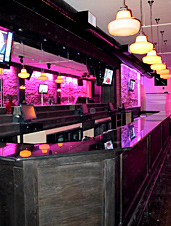 Over the years, you've mastered the fine art of the barhop.
Caps on TV over a beer. A rock show for some whiskey. Then to a club for gin, dancing and...it usually gets a bit hazy after that. A perfect way to spend a day that's sunny, bright and, well, anything unlike today.
But what if we told you there was another way. A warmer way. A barhop...under one roof.
Welcome to
Bar 7,
a split personality of a bar, soft-opening this weekend in Mt. Vernon Square.
You'll wander in after work, looking for a few crucial nighttime elements—namely, Guinness, a dozen wings and a TV showing the Hoyas. You'll find them here, thanks to nine flat-screens and a simpler-is-better bar menu, augmented by long walls of uninterrupted brick and a 30-foot granite bar—in other words, the kind of saloon where Daniel Plainview would have taken in a mid-major bracket buster.
But then...things will begin to change. The lights get a bit more colorful. A rock band arrives and plugs in its Marshall stacks on the small stage. The crowd swells, a muddle of curious conventioneers from across the street and hipster spillovers from The Passenger next door. For escape, you can always head downstairs, where DJs preside over a dance floor and, yes, another bar.
If only they'd hand you a breakfast burrito on your way out.