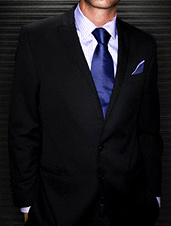 Through the years, you've mastered the subtle ins and outs of the Washington power lunch.
You've leaked intel over venison loin and handed over campaign contributions over platters of Pacific oysters (the senator from Seattle, naturally).
But you've probably never been fitted for a pinstripe, three-piece suit over penne with sausage and red sauce.
Presenting
Custom Suits by Wolf vs. Goat,
here to give you a bit of steak along with your suit.
This inspired little touch is the brainchild of designer-cum-chef Mauro Farinelli. Show up for your appointment at his southwest DC row house, and as you talk fabrics, cut and fit, he'll whip you up a couple of courses—a rotating cast of grub like steak Florentine and all manner of pastas—and enough midday martinis to make Jimmy Carter blush.
Of course, you'll get all the usual bespoke bells and whistles, such as working buttonholes, monograms, horn buttons and scores of fabric choices, from gabardine to twill to seersucker (the Derby's around the corner...).
But because Farinelli made his name at the Denim Bar and ShopFarinellis.com before launching his own weekend-ready Wolf vs. Goat line, he's thrown in a few extra measures. Think button-fly trousers, slim fits and narrow lapels—even custom prints on the jacket lining (we're thinking a repeating Dita Von Teese pattern would be nice).
From there, he'll turn your figures over to a team of Savile Row-trained tailors.
Just ask to be measured before lunch.