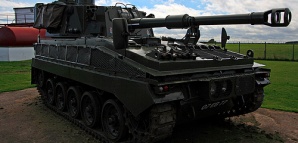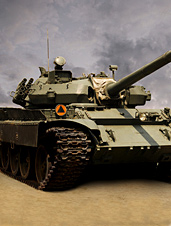 The week's almost over, so let's get down to business.  
We've found a place where you can drive a tank, fire off a few rounds and generally just whet your appetite for destruction.
Legally.  
Welcome to
Drive a Tank,
a self-explanatory service that lets you captain a well-oiled armored vehicle through the wilds of Minnesota, taking reservations now.  
If you've always fantasized about steering a massive tank, but weren't thrilled with the prospect of foreigners shooting at you for doing so, this is for you. You'll start with a quick driving lesson before they turn over the keys of a '50s-'60s-era tank—either an Abbott Self-Propelled Gun or an FV432 Armored Personnel Carrier—to you. (We're told those are the Bugatti and BMW of tanks, respectively.) You'll cruise along at about 25 miles an hour, though we hear a true lead foot can get one of these beasts up to 40.  
But because a tank is only as good as what you're driving over, you'll also have the chance to crush two decommissioned sedans (most likely your grandmother's Oldsmobile). And just to keep you prepared, you'll finish with a round at the firing range using some historic military rifles and machine guns.
Followed by a candlelit vegetarian dinner.
Not really.