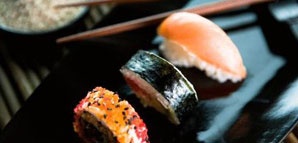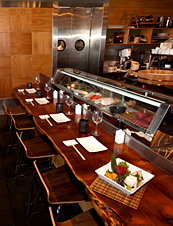 The hunt for good sushi is always on.
The hunt for good sushi in an unexpected spot, like, say, hidden inside a Japanese deli, is an even worthier mission.
So we're here to let you in on a little nugget, which we trust will remain on a need-to-know basis—
Delica Sushi and Sozai
, a new mini sushi restaurant, has just popped up inside Delica's deli space in the Ferry Building.
The good folks at this Japanese deli counter decided we all could use a little more fresh sashimi in our lives. So they carved out a little restaurant and bar—30 seats, to be exact. Now every afternoon they will start rolling out the napkins at this low-key joint ideal for a spontaneous sushi grab or a casual date to impress a been-around-the-block foodie.
You'll want to sit at the five-seat, reservation-only sushi counter tucked away in the back corner. At the helm is a Tokyo-native chef who, in addition to making a mean sashimi carpaccio, spikes the soy sauce with kombu seaweed for more umami (giving you free reign to dunk heavily—you know, to get all that umami). And the fish is all wild and sustainably caught.
They're also serving beer, wine and sake—with $2.50 pints of Kirin at happy hour.
Again: need-to-know basis.