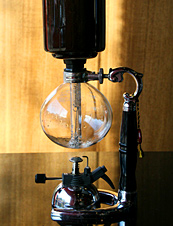 You grow up. Life gets hard. But you still believe in magic.
A magic place, to be more specific, where coffee turns into beer.
Ladies and gentlemen, we have found such a place. Introducing beer coffee—officially called the
Black & Black,
now available at LAMILL Coffee.
Finally uniting the elixirs that start and end your day, the city's most opulent caffeine emporium has quietly (until now) gotten itself a liquor license. Which means your innocent coffee date has the potential, when things go well, to get a bit more interesting (and a lot less innocent).
They're now happily pouring sake, champagne, wine and beer, but if you're not paying attention, you could easily skip right over the new menu's Black & Black, offered humbly and without description.
What it is: their darkest coffee, the
Black Onyx
blend, mixed with an Old Rasputin ale, an equally dark, rich brew. So it'll work for a morning-after brunch with some bacon and pastries...or later on with the
ABLT
(an Asian BLT with thick, fatty slices of pork belly).
But don't worry if you're unsure about the appropriate time to imbibe such a concoction...
It's always 9am somewhere.