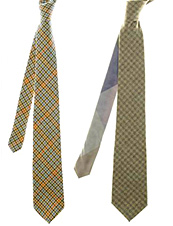 You've been known to take your style cues from some unexpected places.
Your double-breasted suits channel Letterman. Your boots may resemble the footwear of J.R. Ewing. And it could be said that you have a Chuck Norris-like respect for a well-groomed and intimidating mustache.
But we think there's a source of quietly rakish style you may have overlooked: the wild hinterland of glorious Minnesota.
That's where you'll find
Pierrepont Hicks
, a new line of neckwear inspired by kilts and made in the US of A, available now.
First, some background: these aren't made by some trout-fishing, Vikings-loving spinster. Instead, they're made by a couple, one of whom earned her stripes (and plaid) working for Calvin Klein and Ralph Lauren. The line was inspired in part by a trip to Scotland, where the couple scouted kilt materials for eventual use in their wedding. (Happily, they stuck to neckwear, rather than man-skirts.)
Not that any of that matters when you see the ties. You'll find a selection of manly plaids (blame those kilts) that look like something Elvis Costello would have worn during his young and angry days, or your dad would have worn to his wedding (before sinking a few scotches and having it out with his soon-to-be father-in-law).
Some are two-toned, meaning the back half is a different color than the front half—in other words, business in the front and a party in the back. And then there are the bow ties, all reversible so that you're basically getting a two-for-one special.
It's like the happy hour of neckwear.