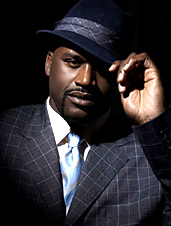 Life can be a harsh, bitter pill to swallow.
Let's say your childhood dream was to curate a Chelsea art gallery. But you got sidetracked into an illustrious NBA career, made a few rap albums and took a star turn as a boom box genie in
Kazaam.
That's life. You roll with it. But sometimes you get a second chance...
Introducing
Size DOES Matter,
an art exhibition curated by none other than NBA big man and all-around Renaissance giant Shaquille O'Neal, opening next week. Yes, we're serious...
First, let us say that Shaq won't be on hand for real-time curating (he's chairing a biotech conference in Geneva), but this is your best chance to delve deeper into the artistic recesses of a man who dubbed himself The Big Aristotle. A man who wears shorts to work.
And when we say art, we're not talking about the sarcastic diorama Shaq mailed Kobe after leaving the Lakers. You'll see pieces designed to play with your perception of size—from huge sculptures to a microscopic portrait viewed through a special lens—created by an international cabal of famous contemporary artists (including Jeff Koons, who incidentally redshirted with Shaq at LSU before settling on the art thing).
It's the perfect follow-up to last year's Wilt Chamberlain Museum of Women's Literature.